Welcome to the Exora - RSPS Wiki!
Exora 667 is a custom economy RSPS aimed to bring a new runescape experience through new content such as NPCs, minigames, maps, weaponry and much more. Exora upholds a balance of existing Runescape content with a pleasant blend of new custom items and armors. Explore new areas filled with monsters you've never encountered before.
If you are at all interested in contributing and working on the Exora WIKI, please contact "Bennie" directly via the Exora forums or through the Exora Discord.
Beginner Guide
Welcome to the beginner's guide to Exora. This page will teach you the basics and important tips to get you through the server.
General Tips
If you'd like to quick teleport to certain locations that require you to go to it often, then there are quick-actions/shortcuts that you may take.
CTRL + G (Opens the global teleports interface)
CTRL + H (Teleports you to the home area)
CTRL + S (Teleports you to the slayer camp)
CTRL + D (Dismisses your pet)
If you're ever unsure about an item, you can always check the wiki about its benefits. However you can also click on a skill to view the in-game item guide.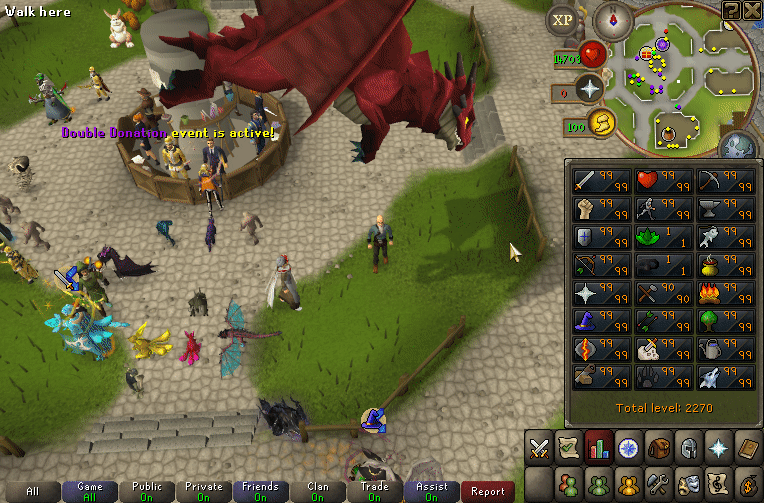 Tooltips
Tooltips are super helpful in-game. Tooltips can be viewed by holding CTRL and hovering over an item or certain interfaces that contain tooltips. You may also view tooltips of items that are contained in an interface. For example, you can view the tooltip information on items in the trading post.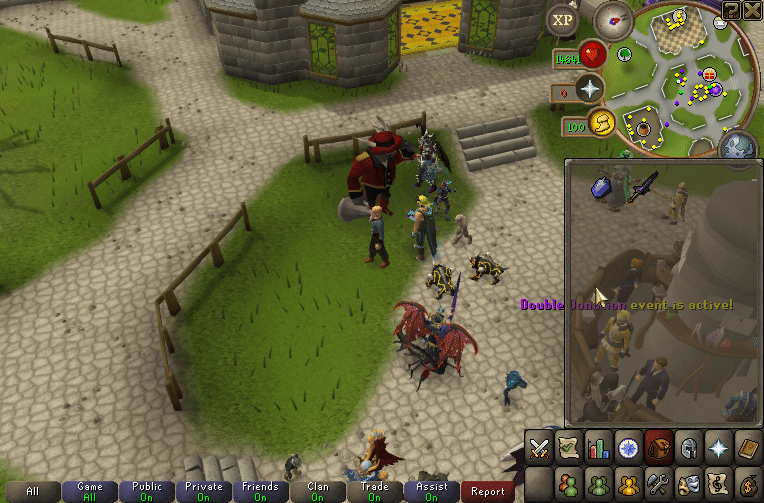 Settings Manager
If you'd like to toggle certain options, or change the actions of F-Keys. You can do so by going to the settings tab and then clicking on either the F-Key button or the Settings Manager.
The Start
Choosing Your Game Mode
Once you've created your account you'll have a few options to choose from. You'll be able to pick a game mode suited to your needs. From super fast experience, to very slow experience. Each game mode provides benefits, the lower the XP the higher the benefits are.
Sir Mode
- x150 Combat XP
- x60 Skilling XP
- Prestige Cap: 3
Lord Mode
- x80 Combat XP
- x35 Skilling XP
- +1% Increased Drop Rate
- Prestige Cap: 5
Baron Mode
- x40 Combat XP
- x15 Skilling XP
- +2.5% Increased Drop Rate
- 5% Increased Hit Rate
- +250 Prayer Points
- Prestige Cap: 10
King Mode
- x10 Combat XP
- x5 Skilling XP
- +5% Increased Drop Rate
- 10% Increased Hit Rate
- +500 Prayer Points
- Prestige Cap: 20
After you've chosen your game mode, you can choose to make it an ironman or hardcore ironman account.
Account Creation Finished
When you are finished creating your account. You'll login with a bunch of starter items. The most important ones are the beginner equipment, sword and the sad goblin pet. This set is better than the low tier beginner gear available and gives increased drop rate. The sword is the best sword for beginners, however the beginner equipment is automatically removed after 6-8 hours of gameplay, depending on the game mode.
Slayer
General knowledge
To teleport to the slayer camp you can use the shortcut key CTRL + S - It is located north-east from home.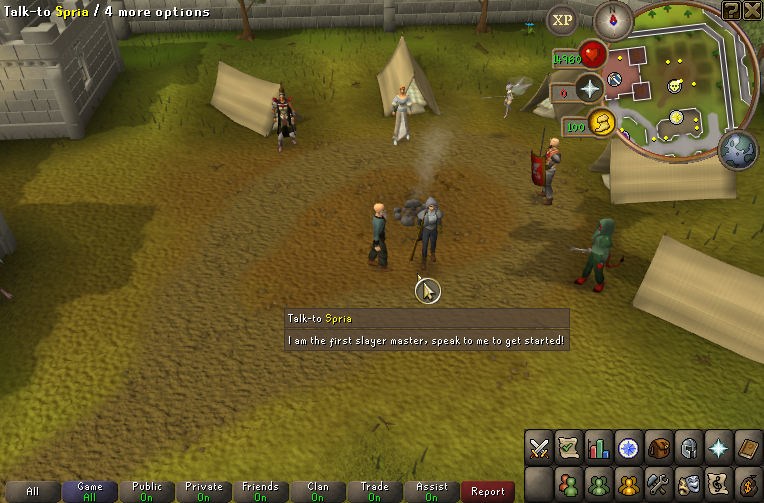 Slayer tasks can be skipped or blocked,
If you skip a slayer task you will ruin your streak and have to start over,
If you block a slayer task you will keep your streak
Enchanted gem tells you where to find your slayer task monster.
Click on gem  - I need help with my slayer task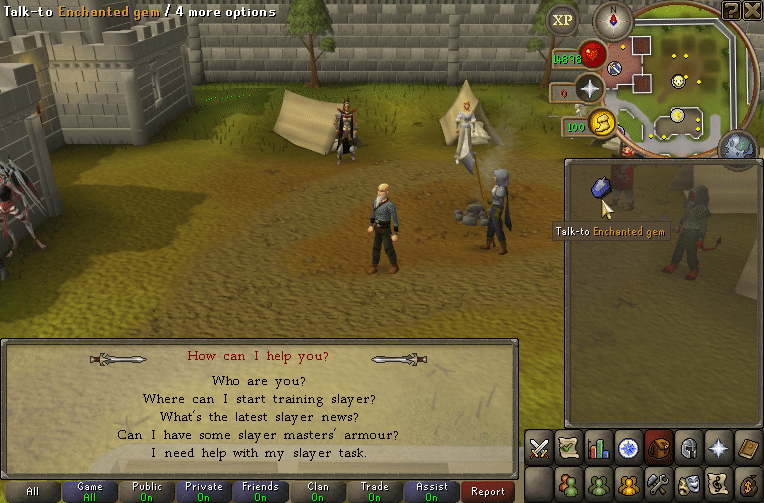 You can always find out more at the Slayer guide itself.
First Purchases from Slayer
As a new player your first purchases can either be the ring of slaying or the special drops ability.
The ring of slaying allows you to teleport to your slayer task, with unlimited charges.
The special drops ability can give you special drops while on your slayer task.
Tip: To learn more about a slayer ability simply hover over the ability in the shop. It will explain the ability and its benefits.
Go to any slayer master and ask to see their slayer point shop.

Battle Pets
Pets on Exora have an unique use in the game. All pets obtained from monsters are battle pets, with their own unique stats, and special attacks. Pets can be leveled and geared to help you out in combat. To level your pet, you'll have to feed it food.
Every player starts with the goblin pet. When you have your pet out examine it, to view its overall stats and level. It is not recommended to level your beginner pet, as while you play you'll eventually be able to obtain better pets. However the beginner pet will help you on your adventure!
Login Rewards
Check-in Chest
You will need to click the Check-in Chest to be able to get the Attendance and Login rewards.
The Check-in Chest is located directly south of home. It is behind the general shops area.
Attendance Rewards
For every hour that you play, you'll unlock rewards up to 5 hours. These reset every day. You'll be notified once a reward is ready for you to claim.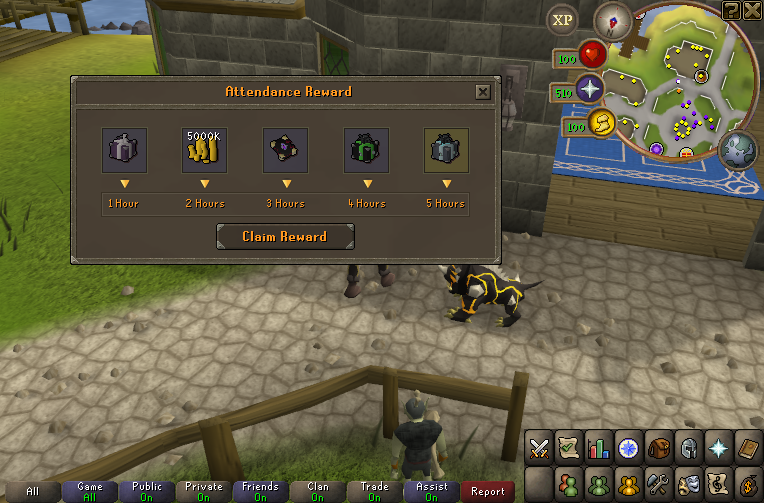 24 Hours Login Reward
Every day when you login, you'll have a daily login roll. With each day that you roll you'll have a higher chance at rarer rewards.

Daily Challenges
Daily challenges are quite easy to complete. They reward you with a daily mystery box, and some extra goodies depending on the daily task.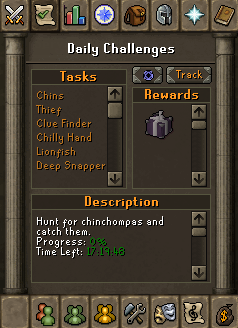 Skillmaster Durzag
The skill master, Durzag is a master of skilling. Players can receive skilling related tasks from Durzag. You may choose which tier of tasks you wish to receive. However in order to be able to get master tasks you'll have to complete a certain amount of easy, medium and hard tasks.


Once you complete a task you'll be given skill points.
Which you can then use to purchase from durzag's shop.



Durzag's Crystal
It can be purchased for 40 points.


There is no requirement to purchase this item
It will automatically complete your task scroll once you press on the collect button.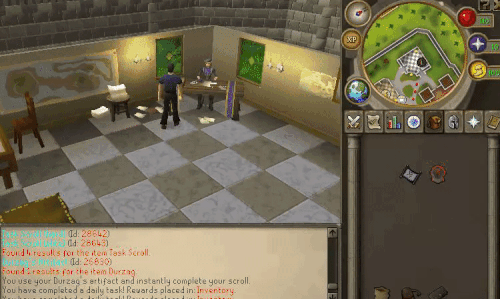 Note: Your crystal will be consumed.










You can always check out the Skillmaster Durzag page for more info!



Searching for more information about a item?
Check out the following links: