This is still a Work in Progress
Exora is a custom economy RSPS aimed to bring a new Runescape Private Server experience through new content such as NPCs, minigames, maps, weaponry and much more. Exora will uphold a balance of existing Runescape content with a pleasant blend of new custom items and armors. Explore new areas filled with monsters you've never encountered before.
If you are at all interested in contributing and working on the Exora WIKI, please contact "Kwibus or Bennie" directly via the Exora forums or through the Exora Discord.
Beginner Guide
Welcome to the beginner's guide to Exora. This page will teach you the basics and important tips to get you through the server.
Section 1: Client Setup
For the best play experience, its recommended you play the game under mid or high graphics with a resizable screen size setting. To find your game settings, simply navigate to the tools icon, click on the monitor icon, and click "custom" to see more adjustable game options. You may also play around with your display mode settings (software, opengl, directX).

Some settings may not work or can cause the client to lag if your computer cannot handle it. Read more at the Beginner Guide













Section 2: Daily Challenges + 24 hour Chest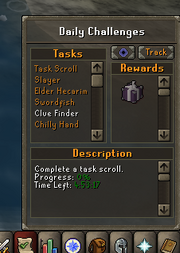 Daily challenges are mostly easy to complete, they give you a Daily Mystery Box

You can win a prize from the 24 hours chest

Slayer
General knowledge
Slayer tasks can be skipped or blocked,
If you skip a slayer task you will ruin your streak and have to start over,
If you block a slayer task you will keep your streak

Ring of slayer give unlimited teleports to slayer task monster
Can be purchased for 12 slayer points

Enchanted gem tells you where to find your slayer task monster.
Click on gem  - I need help with my slayer task

You can always find out more at the Slayer guide itself.



Searching for more information about a item?
Check out the following links: